Ships are a means of transport that has existed for many centuries. A ship is a big watercraft designed to travel on oceans, seas, and other major deep waterways. It can carry goods and passengers and be used to support special missions like military defense, fishing, and research: their size, shape, load capacity, and separate purpose ships from boats. Ships were large sailing vessels with at least three masts and a bowsprit during the Age of Sail.
Exploration, trade, conflict, migration, colonization, empire, and research have all been aided by ships. New harvests brought from and to the Americas via European mariners considerably contributed to world population expansion after the 15th century. Ship travel is essential to world commerce.
Ship paintings are typical and are captured in different ways. Some are captured as part of famous ocean paintings, and some are precise as paintings of ships at sea. Many painters have dabbled in creating works that included boats and their fabled adventures on the high seas throughout history, with some specializing entirely on the subject. Let's analyze some of the most famous ship oil paintings- those used to depict ships at sea at night and those captured in the daytime. It is one of the most iconic painting niches in the entire world.
A First-Rate Man-of-War Driven Onto a Reef of Rocks, Floundering in a Gale By George Philip Reingale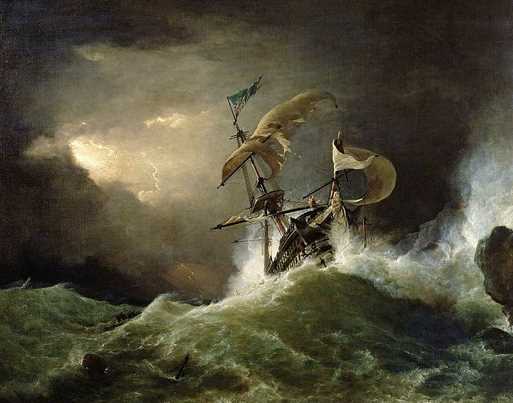 The early 1800s were most likely the pinnacle of the legendary ship painting era. George Philip Reinagle was among the most renowned maritime painters, noted for his ability to portray the essence of the sea's occasionally violent character, which has sunk so many big, potent warships throughout history.
This is a painting of a sailing ship moving at night time. It is a painting of a large ship caught in a tumultuous storm at sea. One of the most intriguing features of maritime travel was the prospect that sailors would perish in a raging storm, often known as a gale, if they were trapped in one.
Reinagle's ability to capture the massive, crushing force of the waves and the sea spray whipped up by the fierce winds makes this work iconic. This painting serves as a somber reminder that not all maritime adventures and journeys end well. In many maritime paintings with ships, the ship is typically the focal point, but in Reinagle's piece, the power of the ocean waves takes center stage.
Battle of Trafalgar By Louis Phillipe Crepin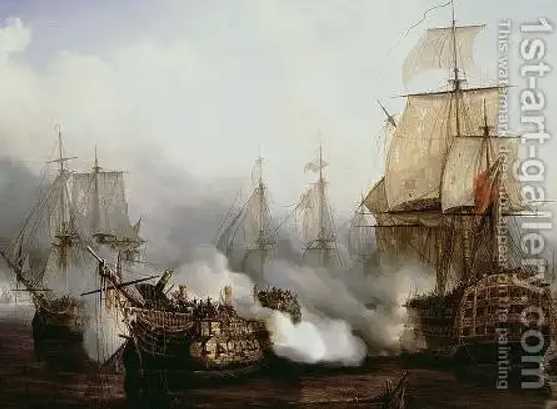 Some of the most well-known paintings of ships at sea depict bloody sea conflicts between great naval fleets. For example, the Battle of Trafalgar, by Louis Phillipe Crepin, was painted in 1805. This picture shows one of history's most famous naval battles, which occurred in that year.
The formidable British Royal Navy was set against two equally worthy opponents in the Battle of Trafalgar: the Spanish and French naval forces, who had joined forces to overthrow the powerful force that had controlled the waters surrounding Europe and most of the world at the time.
Crepin's picture depicts the close-quarters conflict that often occurs in naval engagements with excellent accuracy.
Becalmed Off Halfway Rock By Fitz Hugh Lane
This painting is depicted during the day. Many of the most renowned ship paintings ever made depict ships engaged in furious conflicts or stuck in severe gales on the open sea. However, a few outstanding paintings show the tranquil, serene character of the ocean or coastal landscapes.
This is an example of a work that shows a sight of the beauty that few people outside of the world of ships and sailing ever see. Ships anchored adjacent to Halfway Rock, a well-known maritime marker halfway between Boston and Cape Ann, are seen in this 1860 painting.
Because commercial vessels and supply ships could connect with other ships and conduct various forms of maritime commerce at a specified area, this marker was a popular stop for them. Lane's work depicts many anchored ships with small rowboats moving from one to the next, most likely swapping cargo.
The Home Fleet Saluting The State Barge By Jan van de Cappelle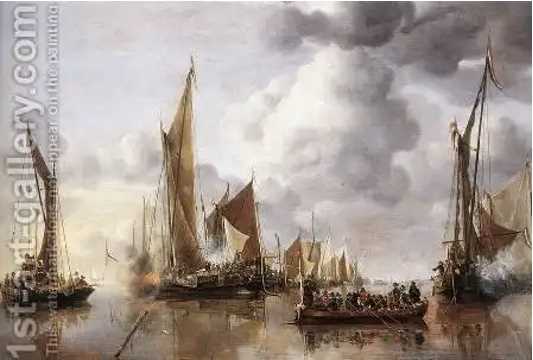 As many pilgrims and travelers crossed the Atlantic Ocean to the New World in the mid-1600s, maritime travel was responsible for transforming the world's people and nations. In his work "The Home Fleet Saluting the State Barge", published in 1650, Jan van de Cappelle documented one significant event from this period.
The ship painting depicts a group of ships assembled in a port to honor a well-known vessel as it set sail on its journey. Cappelle's painting is one of the most famous ship paintings in history since he masterfully shows the water's capacity to reflect events above it in exquisite detail.
This work is a masterpiece, and the red sun allows the reflection on the sea to give off such a radiance that words can barely describe.
Argenteuil (Red Boats) By Claude Monet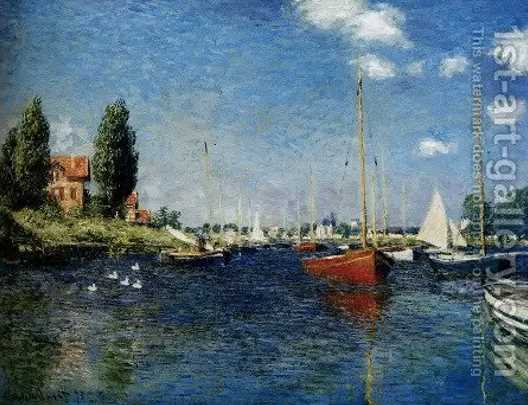 This painting is a famous boat painting that is set in daylight. This artwork displays a tranquil scene with contrasting colors that genuinely showcase the boats in the center of the canvas, and it was created in Monet's famous Impressionist painting style. The calm water looks almost like glass in its capacity to mirror the ships and their towering masts.
Claude Monet's brushstrokes vary dramatically when looking at the sky above the lake and the boats. Likewise, the atmosphere is painted with short, choppy strokes that can carry a lot of information.
Although Claude Monet is considered one of the most famous impressionist painters, most of his work depicted vistas from the land rather than ships and marine voyages, this 1875 artwork, on the other hand, is one of the most well-known ship oil paintings ever created. It could serve as a testament to Claude Monet's mastery over the craft.
Conclusion
Ocean scene paintings and other types of ship paintings expose us to a world that is not necessarily accessible to everyone, especially with the advent of other means of travel. Nevertheless, ships can be beautiful, and these painters who have so graciously depicted them have given us a peek into what life at sea looks like.