In the world of interior design, even the tiniest details can make a significant impact on the overall aesthetics and functionality of a space. One such detail that has been gaining popularity in recent years is triangle sofa legs. These unique and stylish legs are breathing new life into the world of furniture design, and in this blog post, KINNAY will explore the elegance and versatility they bring to sofas and other furniture pieces.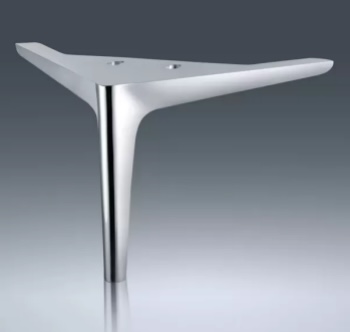 Aesthetics Meets Functionality
Triangle sofa legs are more than just structural components; they are design elements that can transform the entire look and feel of a piece of furniture. Unlike traditional rectangular or cylindrical legs, triangle legs offer a fresh and contemporary twist that appeals to those looking for a modern and stylish interior. The most compelling aspects of triangle sofa legs is their ability to blend seamlessly with various design styles. Whether your space leans towards mid-century modern, minimalism, or even a more eclectic aesthetic, triangle legs can complement your vision. They bring a touch of uniqueness without overwhelming the overall design.
Stability and Durability
Beyond their aesthetic appeal, triangle sofa legs offer practical benefits as well. Their triangular shape provides excellent stability and support, ensuring that your sofa is sturdy and can withstand daily use. This is particularly important for those with families or in high-traffic living areas. Moreover, triangle legs are often made from durable materials like metal or hardwood, adding to the longevity of your furniture. This durability means you can enjoy your sofa for years to come without worrying about wear and tear on the legs.
Space-Saving Solutions
Triangle sofa legs can also be a game-changer for smaller living spaces. Their sleek and streamlined design creates an illusion of more space by allowing light to pass through and making the room appear less crowded. This can be especially advantageous for apartments or compact living rooms where maximizing space is a priority.
Customization and Versatility
Another exciting aspect of triangle sofa legs is their versatility and customization options. These legs come in various materials, including wood, metal, and acrylic, allowing you to choose the one that best suits your interior style. You can select the finish, color, and height of the legs to match your overall design vision. If you're feeling particularly creative, you can even mix and match different leg styles on your sofa or other furniture pieces for a one-of-a-kind look. This customization empowers you to create a piece of furniture that truly reflects your personality and style.
Easy Installation and Replacement
Upgrading your sofa with triangle legs is a relatively straightforward process. Most manufacturers provide easy-to-follow installation instructions, and you can often find replacement legs if needed. This convenience ensures that you can refresh the look of your furniture without the hassle of a major overhaul.
Pairing Triangle Legs with Different Styles
Mid-Century Modern: Triangle legs are a natural fit for mid-century modern sofas and chairs, enhancing their retro appeal. Opt for wooden triangle legs with tapered or angled designs to capture the essence of this iconic style.
Minimalist: For those who prefer a more minimalistic look, choose sleek and simple metal triangle legs. Their unobtrusive design adds a touch of elegance without overwhelming the space.
Eclectic: In eclectic interiors, mix and match different leg styles to create an eclectic and visually engaging look. Combining various materials and colors can result in a one-of-a-kind piece that becomes a conversation starter.
Contemporary: Triangle legs are a perfect fit for contemporary interiors, as they embody the clean lines and geometric shapes often associated with this style. Consider clear acrylic triangle legs for an ultra-modern touch.