The terms tarp or tarpaulin refer to big sheets of waterproof, durable, and flexible material used to cover objects. Because of their low cost and lightweight, they are frequently used in building and renovation to prevent mess and shield materials from the sun and rain. Other popular uses include covering items on trucks during transport and building up temporary shelters to assist disaster victims.
Tarps are available in various shapes and sizes; you must choose your precise application before purchasing. With the proper tarp, you can be confident that your investment will be highly durable and even pay for itself. Nonetheless, with every manufacturer stating that their product is the greatest, selecting the appropriate one might be daunting if you are uninformed of the important stages.
Here are tips to help you choose the right tarpaulin manufacturer
Determine your reasons for purchasing a tarp
Although tarpaulins can be used for various purposes, you should determine your intent before purchasing one. Heavy-duty tarps are ideal if you need tents for outside use, such as covering your vehicles, crops, and other items. But, if you want to protect your inside products from dust with tarpaulins, you should find manufacturer who can produce lightweight ones.
Determine the features you're looking for in a tarp
When looking forward to purchasing a tarp, there are important features so you can choose one that suits your needs and preferences. Here are the top features you need to consider when choosing a tarp.
Pay attention to quality
Quality is the most important factor. Tarps are widely used outside, mostly to cover a wide range of objects, including cars, business goods, building materials, machinery and equipment, and many others. So, you must surely consider the tarp's quality when purchasing it.
Consider examining the density of the tarp. Tents that are thinner are easier to transport and take up less room. Remember that you should not evaluate a tarp based solely on its thickness.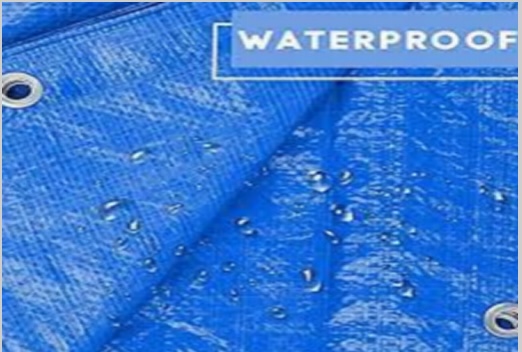 Ensuring that only water-resistant tents are available from your manufacturer if you require tarps for outdoor purposes. As there are varying levels of water resistance, you should consult with your provider to get the one that best meets your needs.
Another important feature you must pay attention to when purchasing a tarp is durability. Of course, you want to ensure the tarp will last longer, giving you a higher value for your money. So you must ensure that the manufacturer of your choice has durable tarps.
The color of the tarp you choose is important, especially if you buy tarpaulin for your business. Make sure that the color of the tarp matches your company's brand. In addition, please choose a color that makes it easy to spot your business at an outdoor event. You can even speak with the manufacturer to customize the color that suits your preferences.
Choose the right material.
Tarps are generally made from various materials, including PVC, canvas, vinyl, polyethylene, etc. Whether purchasing a tarp for your construction project or to help transport your items safely, you must choose the correct material.
Remember that cheap material may be low quality and will not last long. On the other hand, certain fabrics tend to last longer, giving you a higher value for your money. So be sure the tarp manufacturer you choose makes their tarps from high-quality materials with better construction.
Read reviews from their website.
It's good to know what other people are saying about the tarp manufacturer of your choice. How can you achieve this? Well, the best way is to read online reviews about the manufacturer. What are the past clients saying regarding the manufacturer's products and services? If you notice that the manufacturer has more negative reviews than positive ones, that may be a warning sign you shouldn't overlook.
Check their level of customer support.
Finally, you need to confirm if the company has responsive customer support. As a buyer, you may encounter a problem with your tarp. So you may want to contact the manufacturer. But what if you can't reach them or they don't pick up your calls? This can be quite irritating. So before you pick a tarp manufacturer or supplier, ensure they have responsive customer support and can be easily reached through phone or email.
Final thoughts
Choosing a reputable tarpaulin provider will no longer be difficult if you follow the steps. What are you still waiting for? Find a trustworthy supplier and acquire a tarp that meets your specifications now!