Amazon is one of the fastest-growing e-commerce marketplaces. It offers lucrative business opportunities for sellers globally. With 16 marketplaces and more to come, more and more sellers are joining the digital marketplace every day.
Currently, Amazon has an estimated a whopping 6.4 million sellers worldwide out of which 1.5 million are selling actively (Marketplace Pulse, 2021). With the way things are, it seems that the number will increase in the coming months.
Amazon sellers use all kinds of tools to establish and grow sales such as product research tools, keyword search tools, best repricing tool, and so on, and while Amazon and sellers both enjoy the popularity and the large influx of buyers this platform attracts, there is a huge problem at hand that must be avoided to create a safe selling platform.
If you are still guessing – let's make it easy for you. Amazon Hijackers – every seller's nightmare and Amazon's pet peeve. In this article, we will discuss who these hijackers are and what they want. We will also guide you on how you can protect your listings from being hijacked.
Who are Amazon Hijackers?
Amazon Hijackers are sellers on Amazon who use your ASIN instead of creating their own listing. They start by copying your packaging and making a cheaper version of the product you have listed. They price their products lower than you and end up stealing the Buy Box from you. They get more sales than you do for the same product.
Buyers assume that they are buying a product from you whereas, in reality, it is the hijacker who sells them instead of you. The hijackers then deliver a shoddy product disappointing the buyers in return. The buyers then end up leaving a bad review under your listing and tarnishing your brand image.
How to identify Amazon Hijackers?
There are a few ways that you can use to identify if your listings have been hijacked or not. The easiest way is to check out the "New and Used From" on your product detail page and look for copied versions of your product. You will have to be active and must keep a check regularly if you wish to steer clear of these troublemakers.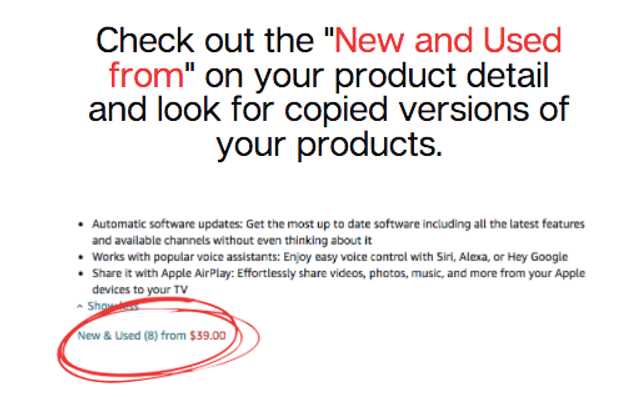 But when there is a problem, there is always a solution. Let's discuss how you can protect your listings from Amazon Hijackers.
How to Protect Listings on Amazon:
Not all listings can be hijacked easily. Most listings that are easy to copy or do not have a clear branding or description are the ones that usually end up being hijacked. Here are a few tried and tested ways in which you can save your business.
Monitor Your Listings
As a seller, you must monitor your listings and keep a watch out for counterfeit products. Monitoring listings regularly can help reduce the chances of your listings being hijacked.
Brand Your Product
One of the most vital steps in establishing your business and safeguarding it against hijacking is branding. Sellers must take branding seriously and must work towards building a brand that is unique, reliable, and dependable.
Make sure you brand your products in a way that your branding sets you apart distinctly amongst hordes of other sellers on the marketplace. Work on your logo and packaging and make sure your product stands out.
Register Trademark and Enroll in Amazon Brand Registry
If you haven't gotten a trademark registered – do it at the earliest. Registering a trademark will give you protection against counterfeit products or hijackers. Once you are done with the registration, you can then enroll in Amazon Brand Registry.
Amazon Brand Registry will help in protecting your listings from hijackers by giving you more control over your products.  Amazon assigns an internal team that helps in speeding up the process of submitting infringement claims. It does not provide total protection against hijackers but as a registered brand, you will have some protection.
To find out more on how to set up Amazon Brand Registry, read here.
Bundle Offers help
Offering bundle offers help prevent the listing from being hijacked as well as it gets difficult for hijackers to copy your products and sell them. This is because in bundle offers sellers usually bundle together multiple products, which generally complement each other. For a hijacker, bundled offers mean that the hijacker must find and copy all of the products being sold as part of the bundle.
Create your own website
Creating your own website outside Amazon will help build trust between you and the sellers.
Warn Hijackers
If you catch someone selling your products using your listings, you can send them a cease and desist letter. This warning letter will have the potential to scare off the hijackers but if this doesn't work, you can involve lawyers.
Report to Amazon
You also have the option to report this theft to Amazon. The way to do this is to actually purchase the counterfeit product, take pictures as evidence and prove how this is a lower grade product and how the hijacker has duped sellers. Be as clear as possible and if Amazon finds your evidence to be true, it will take relevant action.
Conclusion
As long as you follow what has been discussed above and keep a close eye on your listings, use all the right tools while selling such as the fastest Amazon repricer and employ the right strategies – your listings will be protected and your sales and profit will grow.