In America, on the West Coast at least, the idea of a beach vacation is almost synonymous with the state of California.  It's not as though there aren't amazing beaches in the other states – Washington has pictureseque, timber strewn wild and cold beaches; and, Oregon has miles and miles of coastline full of animals.  But whether it's because Hollywood made it so, or the warmer weather has drawn everyone south, California has the beaches you tend to think of when you are planning a vacation based around them.
First thing to know is that California is a BIG state with a lot of coastline.  840 miles to be exact.  That means there are a lot of different kinds of beaches. You can definitely love whale watching Los Angeles and enjoy other marine activities.  You will generally find the soft sand and warm weather beaches in southern California and as you go north (which is a lovely, and highly recommended, road trip along Highway 1) the coast will get rockier and wilder looking.  Northern California coastline is in the path of many marine animals' migratory paths and you can spot whales, birds, and seals depending on the time of year.
Here are some highlights to see and do as you decide what type of beach vacation is possible.
Starting in the southern part of the state near San Diego there is Coronado Beach.  This beach is all about location, location, location.  Close to the famous Hotel Coronado (where many an old movie was filmed) it is a great place to take the family.  It has well-maintained showers and restrooms, and the beach is wide open for all types of activities.  When the day is done head over to the historic Gaslamp District for dinner and shopping.
Nearby is Coronado Tidelands Park that has quieter waters and is more ideal for a day of Stand up Paddleboarding and swimming.  If you've never tried Stand Up Paddleboarding before this is the place to try it. There are plenty of places to rent from and the view of San Diego's skyline is unobstructed.
Further north, near Los Angeles, there is still plenty of beaches to explore with their own personalities.  Santa Monica Beach is distinctive with the Santa Monica Pier sticking out offshore with its iconic Ferris Wheel and rollercoasters.  It's a favorite spot for sightseers and beachgoers, and only 20 minutes from downtown LA it's easy to combine with urban activities. If riding rollercoasters and being close to the coast is your idea of a fantastic trip, Orlando, Florida also has a lot to offer in this regard. If you've also been considering a trip to the East Coast, then this resort in Orlando, FL has a lot to offer.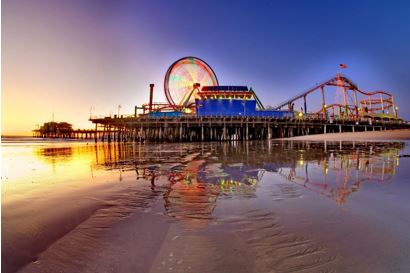 Venice Beach is another famous spot to show off your bikini and watch the circus parade of humanity go by.  It's the quintessential place to "see and be seen".  There are artists' shops, flea markets, and weightlifters all along the beach.  Rollerskating, in-line skating, and skateboarding is easy to do with paved trails.  Join in!  No one is going to judge you here.
Let's not leave Northern California off the list.  There is plenty to see and do around the world-famous City by the Bay, San Francisco, and further north.  The Golden Gate Recreation area has 37 parks around the city and 26 of them are beaches.
Starting at Fort Funston (tucked away in the southwest corner of San Francisco) you can spend the day at the beach or learn to hang glide off the bluffs bordering the area.  Hang gliding is a very popular activity all along the California coast because of the topography and constant breezes.  It's highly recommended that you hire a coach the first few times out.
San Gregorio Beach is 10 miles from the town of Half Moon Bay and is distinctive because of the headlands.  The San Gregorio Creek empties out into the Pacific Ocean here and that provides a lot of different opportunities for water sports.  There is a large parking lot and amenities so bring the family, and a paddleboard, and plan on staying the day.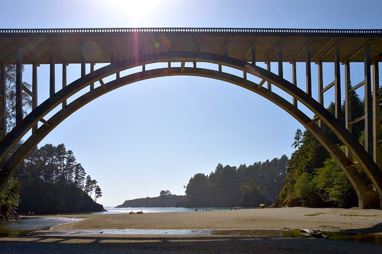 Finally quiet, peaceful Mendocino County offers another headland opportunity at Russian Gulch State Park with calm river waters on one side and the Pacific Ocean on the other.  The river is crossed by Highway 1 and a picturesque bridge provides a backdrop for the day.  A rocky coastline typical of this part of California provides a lot of tidepools and hiking trailheads to explore.  Bicycles and horses are allowed on some of the trails too.  There are places to swim, dive and fish as well.  Check the weather before you come, and be prepared for cooler weather, but this beach will give you an experience unlike the typical southern California beach days.
California is one of the most popular states to live in and visit for a wonderful reason – there truly is something for everyone!   With a little pre-planning and thought about what you are looking for to complete your "Dream Beach Vacation" it's not hard to find it.   Swimming; paddleboarding; fishing; hang-gliding; or, simply sun-bathing, it's here!