Jewellery holds a very sacred space in the lives of women. We all have bought many jewellery pieces over the years that hold emotional value and this is because putting on a dainty piece on our body makes us feel prettier and we all love to look beautiful every day, don't we?
There are many pieces of jewellery that you can choose from, from earrings to necklaces, and rings to bangles, but only one piece of jewellery can be personalised to your liking and this jewellery piece is a pendant.
You can buy dainty pendants from jewellers that have a collection of the latest designs, one of the best jewellers to shop from is Mia by Tanishq. There are various types of pendants that can be worn, these can range from religious symbols to a half heart-shaped locket with your best friend. Whatever the choice of your pendant may be, having a dainty chain around your neck is never a bad idea.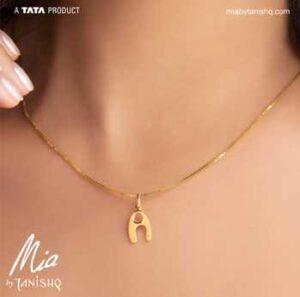 Image Source: Mia by Tanishq
How To Style Pendants?
Many may think that styling pendants are super easy, but to explore a pendant to its fullest potential, you need to style all the elements of a look perfectly and ensure that they are coordinated with each other. Styling a pendant with every piece of your look cohesively will make the pendant shine even more.
The one thing to never forget while styling a pendant is the length of your pendant's chain, and the neckline of your top should be perfect and not clash with each other. This means that if you have a choker-like chain you can either wear it with a turtle-neck top or a deep V-neck blouse as this will help to accentuate your features.
A dainty silver infinity pendant with a long chain would look amazing with a solid colour dress that has a round neckline. These minute details must be kept in mind so that your styling makes you look like the ultimate fashion diva!
Choosing a Metal- Gold or Silver?
A major part of your pendant style is the chain you put it in, as both the chain and the pendant will be worn together. You can decide whether you want to go with a gold or silver pendant and chain based on a few factors. The first one is the undertone of your skin- all of us have either yellow or pink undertones and depending on your tones a pendant can be selected.
If you have pink undertones then silver is more suitable for you, and if you have yellow undertones then going with a gold pendant would be a great option for you. Another factor that can help you in selecting metal is your current style.
If you are someone who prefers to wear traditional Indian clothes then gold jewellery would be better suited for you, consequently, silver pendants would match better with western clothes that are cool-toned.
Find the Perfect Pendants
Pendants add a much-needed sparkle to our outfits and need to be selected very carefully. Whenever you decide to buy a precious pendant, there is no denying that time and thought needs to be put in order to make a decision. You must shop only for the jewellers that you trust so that you get good-quality jewellery that will last you for a lifetime.
One of the top choices for buying pendants of various styles is Mia by Tanishq. The designs that you can find here of all jewellery including pendants is truly one of a kind.