So many factors come to mind when shopping for kitchenware. Among these factors are quality, durability, and even the brand. Nonetheless, what you should consider the most is your budget size and how expensive the kitchenware may be.
Which is the most expensive kitchenware? Keep reading to find out.
What makes kitchenware expensive?
A brand's reputation is a strong determinant of the cost of its products. Generally, brands with a healthy and a very positive history of reputation tend to be more expensive, such as All-Clad and Le Creuset. This reputation assures buyers of quality and durability. But if you are searching for quality and affordable products, check out kitchenrating.com
Where the product is manufactured
The region or country where the product is manufactured is also a major determinant of the cost of kitchenware. For example, products made in Europe and North America tend to be costlier than those made in Asia due to higher costs of labor, rigid laws, and sources for raw materials.
It is only logical that kitchenware made with costly and scarce materials will be expensive. You can't expect kitchenware made with superior stainless steel and copper to come at a giveaway price. Likewise, kitchenware made of aluminum and PTFE coating is cheaper for stainless steel and copper products.
Moreso, the type of material used in manufacturing kitchenware also determines the longevity and durability of the kitchenware. Cheaper products made of materials like aluminum and PTFE only last for 4 to 5 years, while those made of premium steel can last for a lifetime.
Top 2 Most Expensive Kitchenware Brands.
1.    The All-Clad Copper Core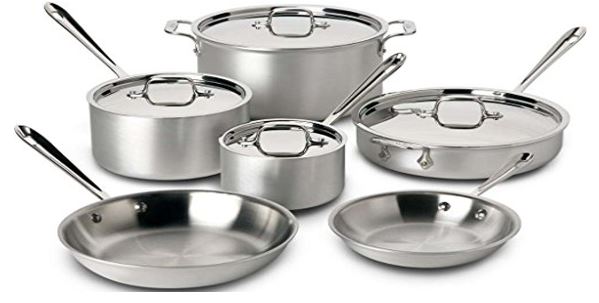 This should not come as a surprise. We all know the strength of All-Clad's reputation. All-Clad is a famous and trusted kitchenware brand. If you want great worth for an expensive kitchenware brand, invest in All-Clad.
As the name implies, the All-Clad copper core is made of copper core layers. The use of this material is one of the factors leading to price increases.
Its copper component does not only make the kitchenware more sensitive to changes in the heat but also makes it attractive. Each pot and pan has an elegant copper ring on the bottom half of the pot shell. All-Clad also makes one of the best oyster knife.
Advantage
No warpage strength
Contour handle
Dishwasher safe
Oven safe to 600 degrees
Optimized induction.
Cons
Handles get hot in the microwave/oven
Very costly
2.    Mauviel Brushed Copper Cookware Set
This brand's production is based in France. Mauviel copper is one of the most reputable kitchenware brands worldwide. The construction, style, quality, and experience in heat conduction and maintenance are the reasons why users are all over the kitchenware.
In case you're searching for effective kitchenware with an attractive appearance, this is your to-go kitchenware. The appearance is its selling point, and it will unquestionably be a great piece in your kitchen.
Pros
Tightened edges
Efficient warming
Adaptable
Cons
Not pocket-friendly
The set doesn't have fewer pieces compared to other collections
Conclusion
The price range of kitchenware is wide, but one thing to note is that costlier does not always beat less costly. In the end, whatever kitchenware you choose will be based on personal preference. Enjoy your expensive cooking!