Isn't it fascinating how listening to a particular tune or song makes us nostalgic while bringing in so many memories? Music can indeed be soothing, and at the same time, it can pump you. In fact, listening to music has positive effects on your mood. So, why should you restrict happiness with wires? It's time to go for wireless earbuds that allow you all the freedom.
Opting for truly wireless earbuds lets you keep your smartphone away while listening to music. Besides, you also get freedom from those annoying wires around your neck. Still not convinced about buying wireless earbuds? Look at the advantages of using the same.
Complements the Style  
Modern-day individuals prioritize fashion and style. This is great as wireless earbuds have a minimalistic design that complements most outfits.
Plus, you no longer need to walk around with awkward wires sticking out.
Easy to Use 
When was the last time you grabbed your wired earphones from the bag, and they came out untangled? Well, that rarely happens! Unlike wired earphones, wireless earbuds do not get tangled for apparent reasons. Moreover, most wireless earbuds come with a charging case, making it easier to carry your music companion anywhere. Now that we have your interest in truly wireless earbuds, let's look at a few options available in the market.
Reflex Tunes – Truly Wireless Pink Earbuds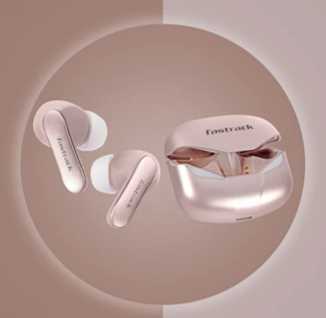 The Reflex Tunes – Truly Wireless Pink Earbuds is one of the best options if you are looking for a blend of style and function in earbuds. It comes with an in-built mic that makes it easy to speak to your loved ones without holding your smartphone for hours. Plus, these earbuds are IPX4 water-resistant and they are ideal if you are into gaming. Most importantly, the earbuds are feather-light, so you won't be experiencing any ear pain.
Reflex Tunes Truly Wireless White Earbuds With 40 Hours Battery Life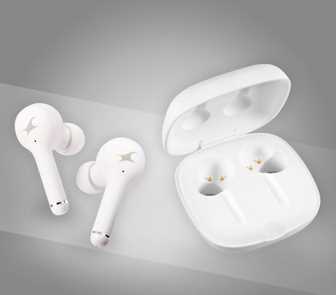 Next on our list is the Reflex Tunes Truly Wireless White Earbuds. This is the latest model and looks premium. The wireless white earbuds are power-packed with 40-hour battery life. Moreover, it contains advanced deep bass, which offers enhanced sound with every beat. What's more? These earbuds are IPX4 water-resistant and sweatproof. It is your go-to companion during long walks, swimming days, and soulless meetings!
Reflex Tunes Truly Wireless Pink Ear Buds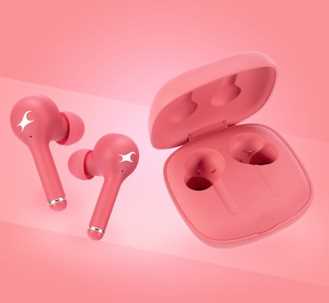 Who doesn't love a dash of quirky colour? These pink wireless earbuds look super cool and are perfect for the modern-day individual. Featuring an advanced deep bass 66mm driver, these earbuds offer enhanced sound with every beat. Moreover, the environmental noise cancellation option provides an immersive experience by reducing unwanted ambient sound. In addition, these earbuds are voice assistant enabled and sweatproof.
Reflex Tunes – Truly Wireless Grey Earbuds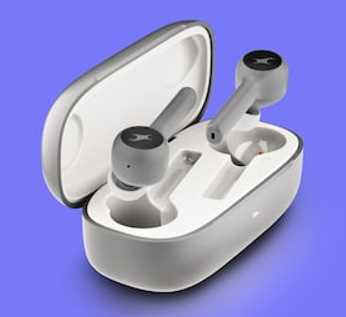 Looking for appealing earbuds to stand out from the crowd? The truly wireless grey earbuds are sleek, stylish, and aesthetically appealing. They are designed to complement your daily looks and offer an immersive music experience. These wireless earbuds are as light as a feather, weighing only 4.4 grams. Plus, it features a quick pairing technology, making it hassle-free to use.
Get on the Greener Side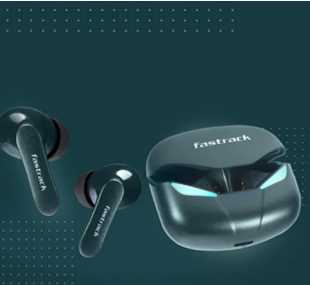 These lightweight earbuds are ideal for your gaming sessions. With 24 hours of playback time to back you through your gaming time, these earbuds offer an immersive audio experience. It is a perfect amalgamation of comfort and functionality. Since the earbuds can be paired with any iOS/Bluetooth device, they are quite easy to use and can be worn anywhere you go. Use them without any fear of weather because they come with IPX6 sweat and water resistance. So, don't wait. Grab this piece and make your friends go green.
Indeed, wireless earbuds are all the rage now. Given the high demand, every manufacturer is rushing to launch a pair in the market. However, there are some crucial things to consider before buying earbuds. Ensure the ear tips are gentle on your skin and don't hurt you. Also, it is essential to check the volume level of the earbuds.
So, now that you know everything about wireless earbuds, when are you buying one? Visit your nearest Fastrack store and check out their latest launches in the Hearable Collection.