It is the revolutionary era for the real estate industry. More and more modern solutions are being integrated; the traditional approaches and processes are being changed; new niches and segments are being identified. This is actually how property tech has emerged. It is a new niche that unites the entire market for modern technological solutions in real estate. Thanks to innovations in this area, construction is optimized, and the premises become energy efficient and multifunctional. Let's check what is used in construction today and how the real estate market will change thanks to new technologies.
Space-as-a-Service: Flexible Offices
Modern construction and arrangement of commercial real estate often imply the use of the space-as-a-service (SpaaS) method. SpaaS assumes that office solutions must be flexible for clients. Thus, the user receives quality service, as well as hospitality and individual design. This trend is becoming quite widespread. According to a study by Emergent Research, about 5.1 million residents will work in coworking spaces around the world by 2022.
Specialists are more likely to switch to remote work. A comfortable workplace and high-speed Internet are not the only things that office space creators should strive for. Freelancers and businessmen are ready to pay money not just for square meters but for a multifunctional environment. This is what the SpaaS approach guarantees.
Laser Scanning
Laser scanning and subsequent reconstruction of a 3D layout of the premises can be useful not only in office real estate. The technology is actively used in the development of the design of unusual apartments, bars, cafes, and coworking spaces. For example, the US-based construction company Precision Property Measurements has already brought ideas for 2,500 restaurants to life using 3D room models. The technology provides complete information about the geometry of any object; therefore, it can be used in the design and construction of offices and other premises.
This is one of the most accurate measurements today. As a result of scanning, a digital impression of the object with the required room dimensions is obtained. It is possible to see the unevenness of the floor, walls, height difference, and correctly lay communications (ventilation shafts, fire water pipes, etc.).
The principle of operation of LiDAR technology (Light Identification Detection and Ranging) is associated with laser scanning of any non-reflecting light objects, including premises. The device emits pulses, and the sensors installed on it determine the distance to the objects under study. Taking into account the speed of light (299 792 458 m / s), the coordinates are calculated accurately. The device is used to generate maps and diagrams, in space exploration and to create self-driving vehicles. High-rise buildings, factories, architectural buildings, cisterns, and heavy industrial facilities – this is where the solution will come in handy. The device makes more than 1 million measurements per second and records the data in the form of a point cloud. It helps to form a 3D model of the object through a computer program.
Virtual & Augmented Reality
Virtual reality allows combining advanced technologies and human feelings, emotions. As a result, a non-existent world with elements of reality is created. The first developments in this area began in the 1960s. In 1962, American director of photography Morton Heilig invented the machine for displaying films based on artificial reality – the Sensorama. Viewers felt the effect of riding a motorcycle in New York thanks to the vibration of the seat and gusts of wind in the face.
The mobile game Pokémon Go is a prime example of augmented reality (AR). In this case, fake characters and phenomena are built into existing objects and events with the help of computer solutions. VR and AR technologies bring a unique user experience. When it comes to a serious investment, whether it be buying a property or renovating, these solutions will significantly save your budget.
Now developers offer different formats for using VR and AR in real estate: VR applications for smartphones and tablets, virtual stands in sales offices, and showrooms with interactive displays. Through VR applications and virtual staging solutions from Spotless Agency, you can walk around the future new building and estimate the cost of square meters with your own eyes. In this way, construction companies expect to increase brand awareness and improve communication with customers.
Big Data
Over the past couple of years, 90% of the global Big Data volume has been created. Wikibon predicts that the industry's turnover will amount to more than $ 100 billion by 2027. According to Cisco estimates, this year, the global coverage of devices for collecting, analyzing, and exchanging data will reach more than 50 billion gadgets.
The rapid development of technology requires skilled big data analysts. For the real estate sector, this has also become a priority. Big Data can be used here at different stages – from investing in a facility under construction to the functioning of an office.
Green Building
The global trend towards sustainability is also relevant for real estate. The main task is to reduce the consumption of energy and material resources throughout the entire life cycle of a building: from site selection and construction to operation, repair, or demolition of the old premises. Green building principles call for reducing environmental damage and maintaining user comfort.
Back in 1970, the Environmental Quality Act began in California. According to the document, Californian developers were obliged to work with minimal environmental impact. Energy performance indicators of buildings had to be written into real estate sales and purchase agreements. The law is still valid today.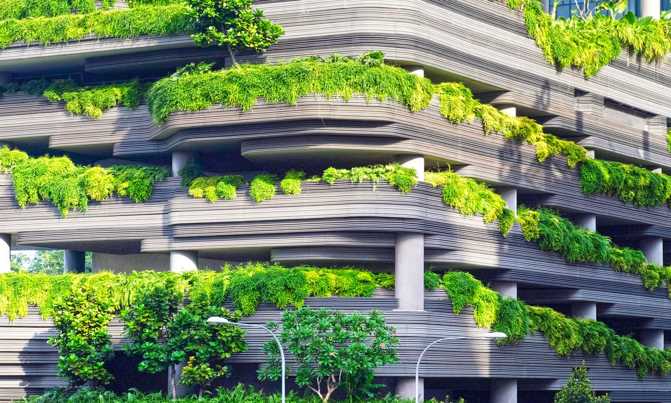 Over time, eco-standards have been beneficial not only for the environment. For example, in Poland, energy-efficient homes have helped cut energy consumption by 30% and saved about $ 120,000 in the construction of business centers, writes EuroBuild CEE. The world continues to improve the standards of sustainable construction. One of the innovations is "green" certificates, which assess buildings according to their environmental impact factors.
Final Say!
Today, it is possible to create an office or living space as multifunctional, energy-efficient, and comfortable already at the design stage. Therefore, the use of various innovations in construction will significantly affect the development of this industry in the near future.