Whether it is comparing student results, organizing customer information, analyzing product sales by volumes, evaluating employee performance, predicting stock values, or budgeting, Microsoft Excel remains one of the most powerful and widely used spreadsheet programs across the globe. Data may not be useful until it is organized, analyzed, and valuable insight extracted from it. This is where Excel comes in. Excel allows users to work with texts, numbers, and other types of data in a more simplified manner to make the most of data. An advantage is that it can be used without any prior special training.
Business problems today need an organized approach to be resolved, and manipulating data the same way to make it useful makes it possible to resolve business problems effectively. However, for data to be useful, it needs to be of high quality. This means cleaning it up to fix or eliminate corrupt, incorrect, incomplete, duplicate, and incorrectly formatted data. This article focuses on how to remove duplicates in Excel. Duplicate data is one of the most common data quality issues.
What is a Duplicate Value?
When data is merged from several sources, it is highly possible to end up with duplicate data in a dataset. When the same value or set of values appears twice or more times in a dataset, using a dataset with duplicate values can lead to significant errors and inaccurate results, which may impact decisions negatively. Thus finding and eliminating duplicate data is not only appropriate but also quite easy with Microsoft Excel. Excel features an integrated data cleaning function that will find and merge duplicate records.
Problem with Duplicate Values
While not all situations warrant the removal of duplicate values from a dataset, duplicate values in a dataset can be harmful to any business.
Data-driven businesses rely on data to make mission-critical decisions. Duplicate data in a dataset means inaccurate data, which in turn affects decision-making negatively.
Multiple customer records for a marketing team lead to bad reporting due to erroneous observations.
Loss of productivity managing repeat records
Unnecessary costs on data storage, data management, and as well as costs associated with the aftermath of using duplicate records in the business
These are just a few in addition to others like poor marketing, poor branding, and poor customer service.
How to find and remove Duplicates
1.   Removing duplicate values using the 'conditional formatting' option
While it may be easy to spot and delete duplicate entries from a small dataset, it becomes very challenging and time-consuming to eliminate duplicate values manually from a large dataset with hundreds or thousands of entries.
To remove duplicates from an Excel workbook, the function 'duplicate values' under the conditional formatting drop-down menu is used.
Here are the steps to follow to remove duplicate data from an Excel workbook.
Open your Excel workbook or create one and import the data you need into the workbook.
Highlight the cells from which you want to deduplicate. This will more often be a column or multiple columns.
On the home bar select conditional formatting and a drop-down menu will appear.
From the drop-down menu, select the first option labeled 'Highlight Cells Rules.'
Select 'duplicate values' from the menu that will appear on the side.
This action highlights the duplicate values in your column. A box will appear that will give you highlight color options for your duplicate values and a prompt to either 'okay' or 'cancel' the action. Click okay to remove the duplicate values.
This action will format the cells with duplicate values.
2. Removing duplicate values with the 'remove duplicates' command
Removing duplicates with the 'remove duplicates' command allows you to highlight the range of data, select multiple columns, or select all the columns in the entire sheet to remove duplicates.
Open your Excel workbook or create one and import the data you need into the workbook.
Highlight the cells from which you want to deduplicate.
On the top menu bar of your Excel sheet, click on 'data.'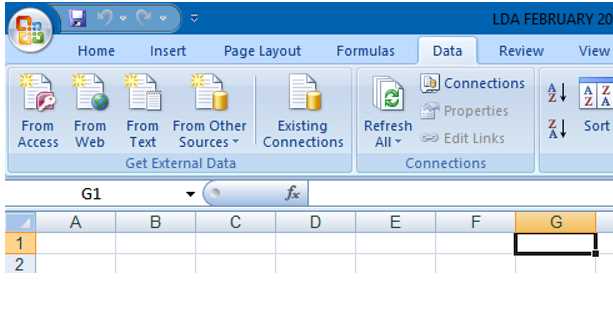 Select the 'remove duplicates' option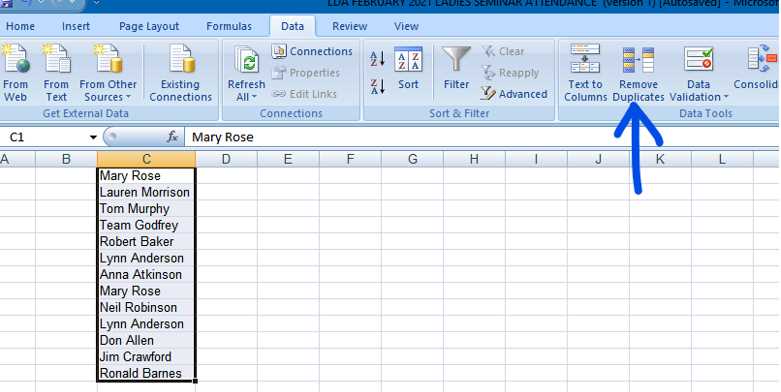 This action opens up a pop-up window that lets you select the specific columns that you would like to dedupe. Alternatively, check the 'select all' option if you would like to dedupe all the columns on your Excel sheet. If your sheet has headers, be sure to check the 'my data has headers' check box.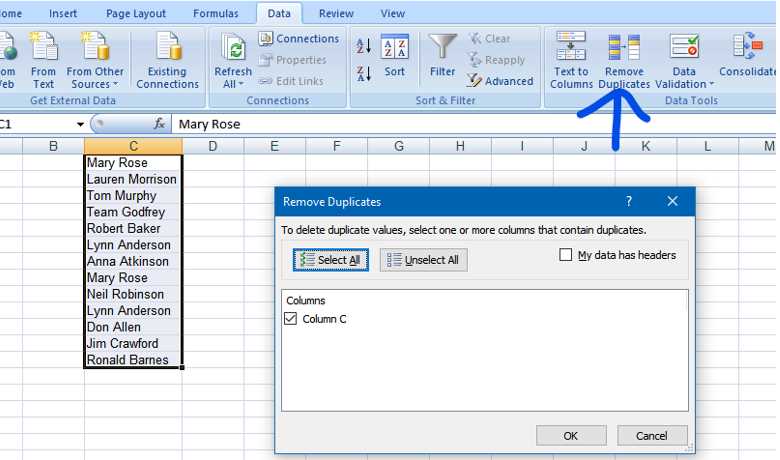 This action eliminates duplicates on your selection, as shown below.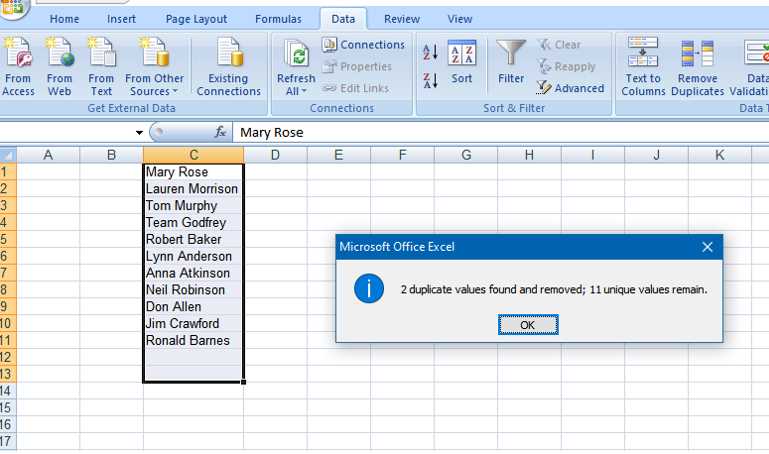 3. Removing duplicates with the 'advanced filters' option
You can also remove duplicates from your data using the advanced filters option using the following steps.
Open your Excel workbook or create one and import the data you need into the workbook.
Highlight the cells from which you want to deduplicate.
On the top menu bar of your Excel sheet, click on 'data'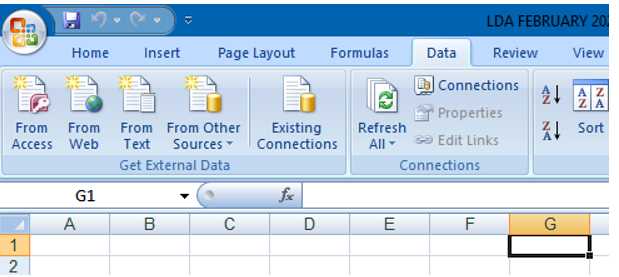 Next to the filters command, click the 'advanced' option.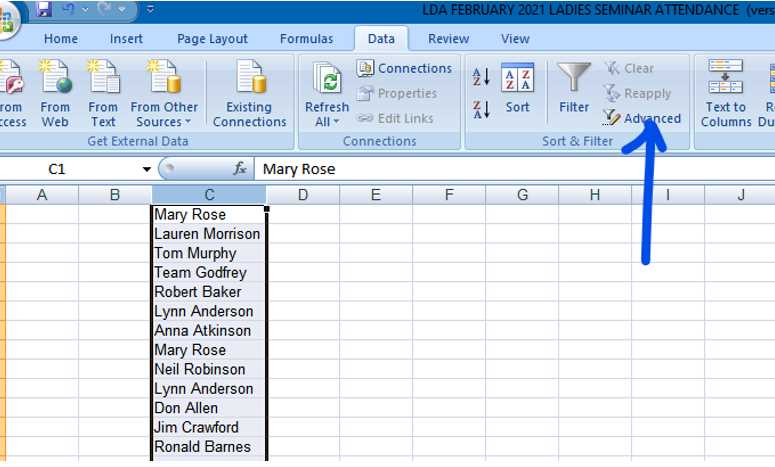 This opens up a pop-up window with more commands.
Select the 'filter the list, in place' option
Specify your list range
Check the 'unique records only' option and then click 'ok'.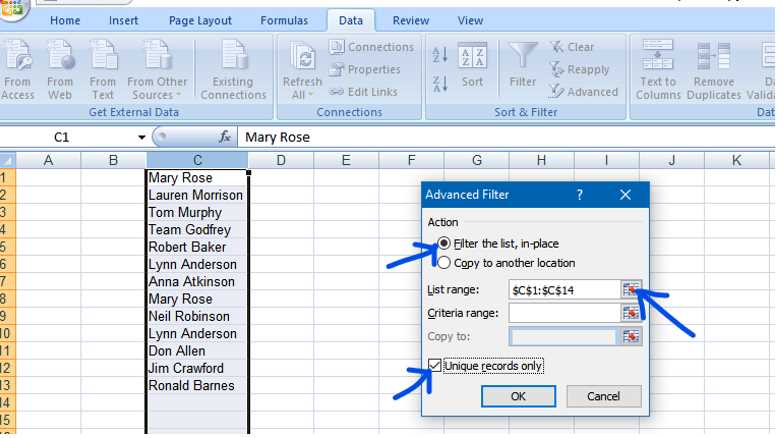 This action will remove duplicate values from your selected data.
Conclusion
Excel is a powerful tool with lots of functions, formulas, and immense capabilities. There are several other ways of removing duplicates in Excel that can be useful to you. Also, it features other options for cleaning your data. Ultimately, what matters to all is high-quality data for well-informed decisions.
As long as data continues to play a prominent role in our world, Microsoft Excel has proved to be an indispensable tool for businesses for the three decades that it has been in existence. Microsoft Excel comes with inbuilt functions that are useful for organizing any type of data. In addition, Excel is designed with formula-based data analysis, charting and graphing, data modeling, CRM (customer relationship management), and programming capabilities allowing businesses to make the most of the large data volumes under their custody for insightful decision-making.