Most watch enthusiasts are ardent fans of Swiss watchmaking expertise. Patek Philippe is a highly renowned watch manufacturer with an impeccable track record that extends beyond 130 years. Offering a wide range of collections, this trusted watchmaker meets the emerging needs of different watch enthusiasts. The Patek Philippe Nautilus collection represents the ultimate standards of quality and workmanship. If you are looking for sporty, elegant, and functional watches with a timeless appeal, you can choose the Nautilus collection. What are the top reasons that make the Nautilus collection unique and adorable?
Master technicians and unsurpassed skills of hand-finishing
Patek Philippe has a team of master technicians who know the art and science of watchmaking. The Nautilus collection displays the craftsmanship and creativity of these experienced technicians. Accomplished specialists perform the finishing tasks by hand, with skills passed down through generations. With minute attention to detail, they get the job done with immaculate precision. Refined elegance is what you can expect with the Nautilus timepieces.
Hand finishing addresses even the minute traces or burrs of machining to ensure perfect movement. Skilled technicians focus on honing edges that move against each other. The hand finishing of these watches provides the best protection against oxidation. With their immaculate creativity and craftsmanship, the technicians make Patek Philippe Nautilus watches incredibly stylish and beautiful.
Extensive research to ensure unrivaled quality
If you want to buy stylish and attractive sports watches, look no further than the Nautilus collection. With an unquestionable commitment to quality, Patek Philippe surpasses your expectations in many different ways. The Nautilus collection comprises the best luxury sports watches that you can ever come across. The design and construction of these timepieces are unbeatable.
At Patek Philippe, watchmaking experts conduct extensive research for years to construct watches of inimitable quality. The Nautilus collection is a perfect example. Following the best quality control standards in the industry, this watch manufacturer leaves nothing to guesswork. The most advanced and reliable components are used to make these watches. All these aspects take the quality of these timepieces to the next level.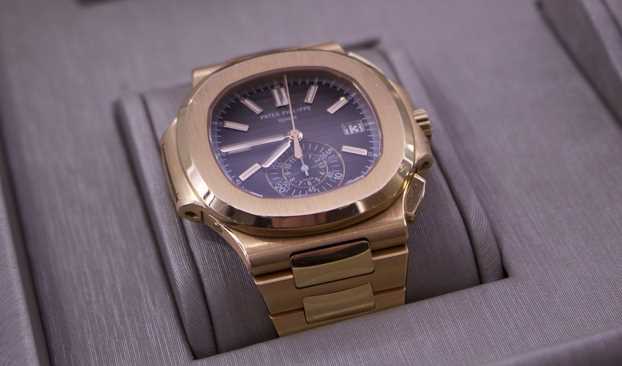 A perfect blend of power, performance, and precision
Patek Philippe Nautilus collection comprises elegant sports watches that combine precision and power harmoniously. Driven by the most advanced quartz movement, these timepieces make timekeeping precise. The robust case makes them unbelievably powerful. You can expect them to perform exceptionally well in all conditions.
There are steel watches, rose gold watches, and white gold watches available for you to choose from. Some models come with two-tone combinations. The luminescent coating on markers improves the legibility of these Nautilus timepieces considerably. The water resistance capability is admirable. You can also expect high longevity due to top-quality components and solid construction. Overall, these timekeeping instruments blend power, precision, and performance harmoniously to provide the best user experience.
The first model of Patek Philippe Nautilus was launched in 1976. It has been a favorite luxury sports watch for millions of people. These are the most prominent reasons that make these timepieces extra-ordinary, unique, and appealing. With a perfect combination of power, precision, performance, and durability, the Nautilus watches fulfill the needs of even the most ambitious watch enthusiasts.