Before you tie the knot, you have to ask the big question!
Before you ask the big question, you need to browse through a bunch of beautiful engagement rings available online before you get on one knee and take her by surprise. Engagement rings are of great significance as they celebrate the commitment and eternal love that two people share. Thus, engagement rings are a reminder of the beautiful day when two souls decided to become one.
Engagement rings are not only one of the most precious things you possess but also have a great emotional value.  They always stay on your ring finger and remind you of the eternal, forever bond that you share with your significant other. So, if you are planning to ask her the big question sometime soon and are looking for the perfect engagement ring for your sweetheart, then you have come to the right place!
Unlike the old times, today, there are chic, minimalistic engagements available in the market. You can browse through a vast collection of intricate engagement rings that are crafted for today's women who are always on the go!
To make the selection process a bit easier for you, here are four engagement rings that you can consider as perfect for the day you bend on one knee:
The Eternal Bond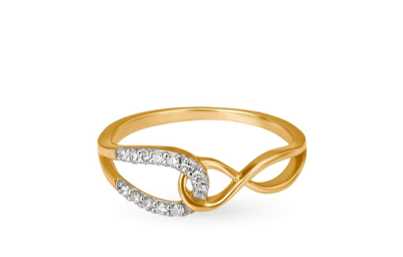 Designed to celebrate a forever kind of love, this phenomenal yellow gold ring with diamonds studded in the most aesthetic manner along with an infinity symbol is perfect for an ultimate proposal.
Express your love in the glamourous and charismatic way with engagement rings that are sure to make her heart skip a beat the moment you hold it in front of her!
Bold In Rose Gold
A rose gold engagement ring for the bold and beautiful soul; this finely crafted finger ring is a very subtle yet elite choice to suit a confident personality. Designed with converging arches and embellished with a row of glittering diamonds and edged by peaks of stone elements, this ring is classy and enigmatic in equal measures.
Easy to style and carry, this is one of our personal favourites out of all the engagement rings, an impressively fine ring that is perfect for your free-spirited sweetheart!
For Your Princess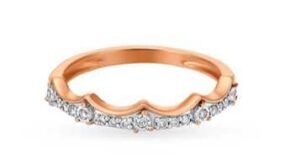 For your princess and queen to be, this crown-shaped engagement ring can prove to be your best bet when asking her 'the question'!
Beautiful and truly graceful, this engagement ring has its own posh vibes that can add more glam to her wardrobe. What is better than an accessory that also reminds her of the happiest day of her life? Nothing right!
So, without any second thoughts, shop this premium engagement for her and see the tears of joy fall off her eyes the moment she sees it!
The Floral Power
A ring she can't say no to!
Floral and fabulous this pretty ring is glamour personified; mark your big day with this elite yellow gold ring that is carved out to make her radiate pure class at all times. Pretty and posh, this is a ring that screams femininity and celebrates not only your love but also her womanhood in the most graceful manner. Universally flattering, this ring can be a great addition to her wardrobe as she can style it with her Indian traditional outfits as well as western formal dresses!
The Ring of Love!
The best way to impress her is with a ring that came make her fall in love with you all over again!
Take her by surprise, make a grand gesture with one of these engagement rings that are made of the purest quality of gold and designed by some of the most skilled designers. Moreover, when shopping for engagement rings online, make sure you shop from known and reputable brands that can provide you with authentic products at genuine prices. One such brand is Mia by Tanishq, so visit their online store to explore the exquisite collection of engagement rings that are not only gorgeous to look at but also truly authentic!